09/28/2020
Vossloh supplies fastening systems for new heavy-haul line in Mongolia
Vossloh won a first contract for the supply of rail fastening systems for a heavy-haul line in Mongolia. The about 270 km long line will connect the Tavan Tolgoi with Gashuun Sukhait port at the Chinese border. After its completion, about 30 million tonnes of goods, primarily raw materials for steel production, will be transported on the new rail link each year – with significant environmental advantages compared with the current road haulage. The deliveries of the fastening systems started some time ago, and an approximately 70 km long section has already been completed. Under the current plans, construction work will be completed by the end of 2021.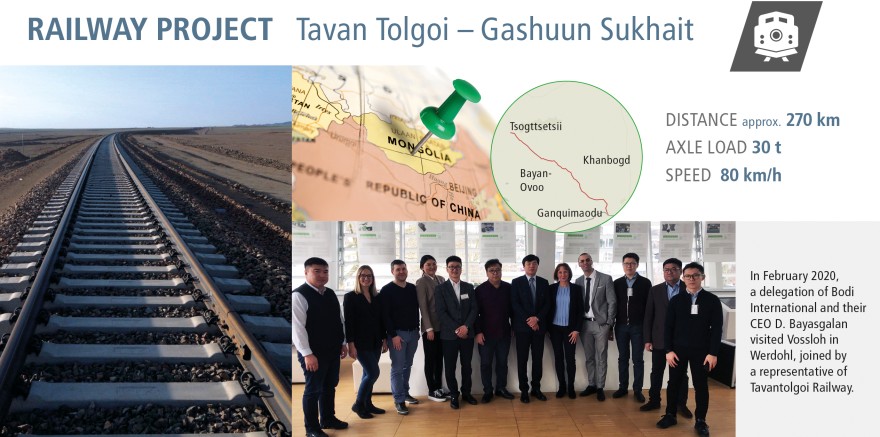 For the haulage of the extreme loads on the wide gauge track through the steppe landscapes and the Gobi desert, the line will be equipped with Vossloh's innovative rail fastening system W 30 HH. This system is ideally suited for the demanding climatic conditions, such as extremely hot summers and winter temperatures down to minus 40 degrees Celsius, as well as for the challenging soil conditions in Mongolia. The system first proved itself on the test track constructed in 2017 near the capital Ulaanbaatar and has since been used successfully in various projects.
Also the many years of global experience and the capacities and quality standards in combination with the technology center at the production site in Werdohl convinced the delegation of the Mongolian company Bodi International.
Werdohl, September 28, 2020
Contact information for the media:

Vossloh Fastening Systems GmbH
Katrin ten Voorde
Manager Marketing & Communication
Vosslohstraße 4
58791 Werdohl, Deutschland
Telefon: +49 (0) 23 92 / 52-556
E-Mail: katrin.tenVoorde@vossloh.com
With its Fastening Systems business unit, Vossloh is a worldwide leading provider of rail fastening systems. The product portfolio comprises fasteners for ballasted track, slab track and local transport and covers all load profiles from heavy haul to high speed lines. In fiscal 2019, Vossloh Fastening Systems generated sales of approx. €234 million with 577 employees.