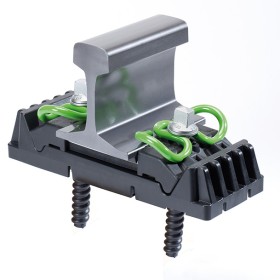 Slab tracks, or non-ballasted track structures, require fastening systems directly attach to the concrete slab, and must meet special requirements to deflect the forces generated by a rolling train. Vossloh has developed the DFF series, a line of highly elastic direct fixation fasteners, for optimum performance in slab tracks used in urban transit and conventional rail. These direct fixation systems provide a single support point in slab track with its screw-dowel combination for anchoring, and are equipped with Vossloh's patented Cellentic rail pad, which is made of a highly-elastic elastomer, that provides the essential flexibility required in direct fixation fastening systems.
The DFF 21, used in both conventional rail and urban transit settings, features a reinforced base plate with a larger surface area, especially suited for both metro and conventional rail projects.
The DFF 300 UTS (Urban Transit Systems) has been adapted to meet the special requirements of urban transport. This innovative system is designed to dampen vibration and mitigate noise, which is a significant benefit in the urban transit environment.
Find out more about Vossloh Rail Fastening Systems