Vossloh is a global leader in rail infrastructure product and services, especially recognized for its industry leading technology in the area of passenger transit. In North America we've been supplying turnouts & crossings, fastening systems, as well as signaling and switch control solutions some of the most recognized transit authorities, including New York City (MTBA), Chicago (CTA), and Amtrak, to name a few. We also have numerous references in Canada and Mexico.
Vossloh North America companies are committed to meeting the needs of our transit customers, now and into the future. This includes brining production facilities to the U.S. to meet 'Buy American' requirements, like our new 'state-of-the-art' fastening production facility in McGregor, TX. This also includes utilizing our global expertise to advance rail transportation technology in North America, especially in the area of high speed rail where Vossloh has set global standards for performance and safety. As Various high speed projects are planned and developed, Vossloh North America companies stand as technical resource and trusted partner, offering complete lineup of products and services to meets the needs of any passenger transit project.
Rail Fastening Systems for Transits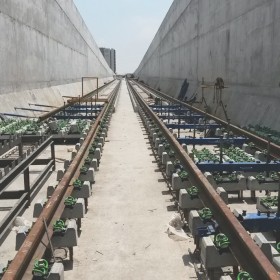 Vossloh Rail fastening systems are the premier choice for concrete tie or slab track transit projects. We offer highly elastic rail fastening systems that are not only safe and cost effective, but also promote quiet tracks by reducing noise and vibration, yielding overall smoother ride. Key to the these systems is in the use of advanced materials, such as composite plastic plates as well as our patented Cellentic rail pad, which produce the desired performance requirements and numerous other benefits which yield longer lifecycles and lower overall cost of ownership.
The Vossloh W System is a modern solution for high speed and conventional rail on concrete ties, increasingly becoming a common track structure in North America. In transit settings, the W System is equipped with a highly elastic rail pad to match the load transfer requirements and speed.
The DFF series, a line of highly elastic fastening systems for direct fixation, are designed for superior stability on slab track, which is a track structure common to urban transit.
Vossloh rail fastening System 300 is a global standard for high speed rail, with numerous references and proven reliability for over 40 years. The newest version, System 300 NG (New Generation) builds on this track record by incorporating advanced materials that enhance overall performance and yield numerous other benefits. And, like all Vossloh rail fastening systems, are virtually maintenance free. More