08/26/2020
Vossloh supplies rail fasteners for further sections of the new rail link of Etihad Rail
In the invitation to tender for Packages 2B and C as part of Stage 2 of the new railway construction project, Vossloh was again awarded the contract for the supply of rail fasteners. The customers are China Railway Construction Corporation Ltd. and Ghantoot Transport & General Contracting Company.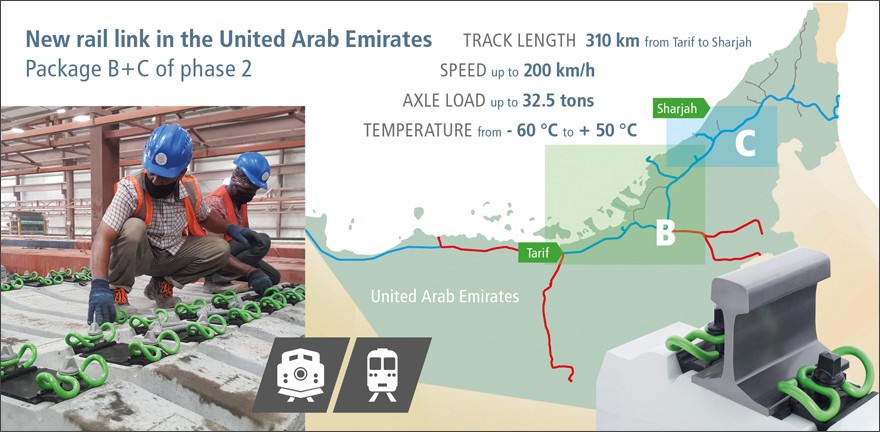 As already for Stage 1 and Package 2A of the project, Vossloh will deliver its heavy haul fastening system W 30 HH also for the 310 km long line between Tarif and Sharjah, which will connect the ports of Khalifa and Jebel Ali with Khalifa Industrial City (KIZAD). For the local requirements of the railway network, which will be operated by Etihad Rail after its completion, this reliable concrete sleeper solution for ballasted track ensures optimum load distribution. Thanks to the incorporation of an elastic rail pad (160 kN/mm), the W 30 HH is ideal for tracks for mixed traffic. In future, the line will be used for freight traffic with axle loads of up to 32.5 tonnes and speeds of up to 160 km/h as well as for passenger trains, which will travel at speeds of up to 200 km/h. The maintenance-free rail fastening system permits safe travelling also under extreme conditions at temperatures ranging from -60 to +50 degrees Celsius.
The first lot of the rail fasteners was delivered in July, further deliveries to the United Arab Emirates will follow until the end of 2021.
Werdohl, August 26, 2020
Contact information for the media:

Vossloh Fastening Systems GmbH
Katrin ten Voorde
Manager Marketing & Communication
Vosslohstraße 4
58791 Werdohl, Deutschland
Telefon: +49 (0) 23 92 / 52-556
E-Mail: katrin.tenVoorde@vossloh.com
With its Fastening Systems business unit, Vossloh is a worldwide leading provider of rail fastening systems. The product portfolio comprises fasteners for ballasted track, slab track and local transport and covers all load profiles from heavy haul to high speed lines. In fiscal 2019, Vossloh Fastening Systems generated sales of approx. €234 million with 577 employees.