07/27/2020
Compelling milling concept in the Netherlands
Vossloh is currently using several milling machines per shift in order to make the best use of possession times of as little as four hours for its customer.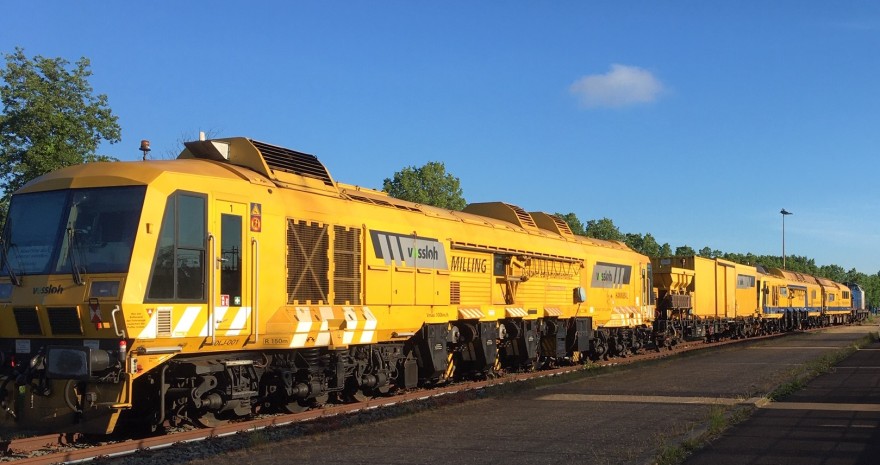 Under a framework agreement it has signed with ProRail, Vossloh has been carrying out regular corrective maintenance work on the standard-gauge rail network in the Netherlands since the beginning of the year. Two standard-gauge milling vehicles currently machine one section of line every shift with a milling truck deployed especially for turnouts and level crossings.
Vossloh is aiming to serve its customer by maximizing the utility of nightly track closures which last only four hours on some sections of the line. ProRail wants the cyclic rail maintenance to remove a maximum of 0.5 mm in order to extend the rail's service life. With corrective rail milling, which can be done accurately down to within a tenth of a millimeter, the amount of material removed depends on the rail's current condition.
The conventional SF03W-FFS milling machines being used mill at an average speed of 0.7 km/h when machining to a depth of between 0.3 and 2 mm on the running surface. Depending on the depth of the defects, up to 4.5 kilometers of track can be milled per shift, and this includes all the necessary initial and follow-up measurements.
Matthijs Doesburg, Contract Manager at ProRail, is pleased with the way the work is progressing: "The quality and scope of the services offered are very impressive. We're making good progress with this milling concept." Barry Bierman, the project manager from Vossloh, adds: "Every time we do a shift we're demonstrating to our customer the potential that milling technology has. It's still a relatively new rail machining procedure in the Netherlands, so we're all the more pleased to be working so closely with ProRail and meeting every challenge successfully as a team."
Contact information:
Vossloh Rail Services GmbH
Anika Oda Amort
Head of Marketing & Communication
Hannoversche Straße 10
21079 Hamburg
Telephone: +49 (0) 40 430 93 13 90
Email: anika.amort@vossloh.com
Vossloh Rail Services
As a business segment of the Vossloh Group, Vossloh Rail Services provides a host of services centered on rails. Its range of services covers a rail's entire lifecycle – everything from long-rail production and transport, rail maintenance and preventive care right up to the reconditioning and recycling of old rails. By combining its own technologies with efficient procedures and experienced personnel, the company is ensuring that modern railway operations are both safe and sustainable.