07/23/2020
Vossloh produces one billionth tension clamp in Werdohl
On July 22 2020, Vossloh Fastening Systems celebrated the production of its one billionth tension clamp at its Werdohl headquarters. This quantity is enough to equip some 150,000 kilometers of track with rail fasteners, equivalent to about four round-the-world trips.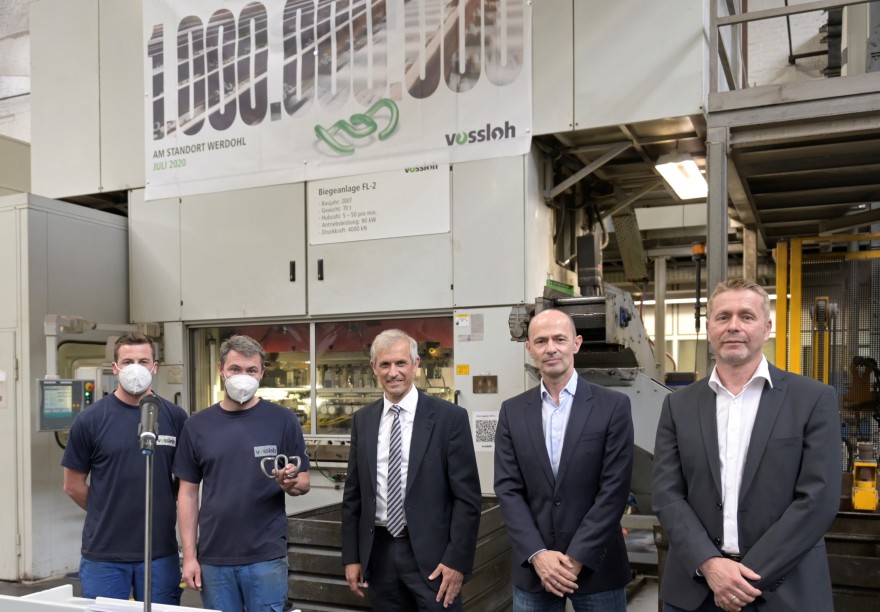 On the occasion of the production of the billionth tension clamp in Werdohl, Vossloh AG's CEO Oliver Schuster said: "The future depends on a past. We can, indeed we must, learn from our past. The establishment of this company and its development more than 130 years ago was only possible thanks to the incredible drive, the literal will to survive and the staying power of one man, Eduard Vossloh." Speaking to the workforce, Schuster referred to one of the largest investment projects in the company's recent history that is currently underway in Werdohl: "Something new is being created here: our Factory of the Future. I am proud of this commitment to our headquarters, of this project and of all of you who make sure each and every day that it becomes reality."
Christian Renners, Managing Director of Vossloh Fastening Systems GmbH, added: "We will very soon have here the most advanced production facility worldwide for rail fastening systems. And this means so much more than just addressing the second billion tension clamps. Above all, unlike in the past, we will also produce other components ourselves. And last but not least, our ecological footprint at the location will be smaller, i.e. better."
In 1968, rail fasteners using a bolted elastic tension clamp were installed for the first time in a test track of the then German Federal Railways. The product developed by Professor Herman Meier proved its worth and Vossloh was awarded the general license to manufacture the tension clamp. The history of Vossloh Fastening Systems reaches back even further. In 1883, the blacksmith Eduard Vossloh in Werdohl won an order from the Royal Prussian Railway for the production of spring washers for rail fasteners. By entering his company in the Companies Register at Altena Local Court on July 11, 1888, he laid the foundation stone for today's Vossloh Group.
Werdohl, July 23, 2020
Contact information for the media:
Vossloh Fastening Systems GmbH
Katrin ten Voorde, Manager Marketing & Communication
Vosslohstraße 4
58791 Werdohl, Deutschland
Telefon: +49 (0) 23 92 / 52-556
E-Mail: katrin.tenVoorde@vossloh.com
With its Fastening Systems business unit, Vossloh is a worldwide leading provider of rail fastening systems. The product portfolio comprises fasteners for ballasted track, slab track and local transport and covers all load profiles from heavy haul to high speed lines. In fiscal 2019, Vossloh Fastening Systems generated sales of approx. €234 million with 545 employees.