09/23/2019
Vossloh awarded ProRail rail maintenance contract in the Netherlands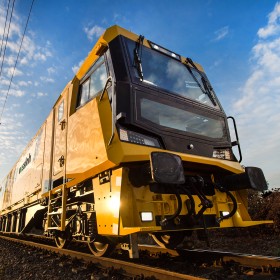 ProRail has awarded Vossloh its corrective rail maintenance tender in the Netherlands, and it's the first time that it has preferred milling over conventional grinding for the corrective removal of rail defects. The frame contract is valid for four years.
As the Netherlands' largest rail infrastructure company, ProRail B.V. looks after approximately 7,000 km of railway lines. All its orders for corrective rail maintenance over the next four years are being given to Alpha Rail Team & Co. KG, a 100% subsidiary of Vossloh Rail Services. Reprofiling or removal of rolling contact defects are fundamental tasks for rail maintenance, and this will be the first time that ProRail is using Vossloh milling machines to perform it.
"We've been following the latest developments in rail maintenance for a long time now." stresses Wouter van Dijk, Director Asset Management at ProRail. "The various milling techniques employed by the different maintenance firms we've seen have given us a comprehensive picture of the results that can be achieved when rails are properly maintained."
Based on the local requirements, Vossloh will select from its entire fleet of milling machines in order to ensure efficient implementation of the different maintenance measures.
"We're very pleased to have been awarded this tender." adds Marcel Taubert, Managing Director of Vossloh Rail Services. "It's a confirmation of our increased activity in the Netherlands, and together with our partner we'll be striving not just to deliver a convincing performance but also to provide sustainable documentation of the full range of advantages that milling offers."
Over the last few years, Vossloh has repositioned itself in the corrective rail maintenance market. Besides taking over the milling division of STRABAG Rail and its fleet of vehicles in late 2018, Vossloh has also invested in developing its own milling machines. With its High Performance Milling (HPM) train and the compact Multi Purpose Milling Machine (MPM), Vossloh is looking to set new standards in this rapidly growing market.
Hamburg, September 23, 2019
Contact information for media:
Vossloh Rail Services GmbH
Anika Oda Amort
Manager Marketing und Kommunikation
Hannoversche Straße 10
21079 Hamburg
Telefon: (+49 40) 430 93 13 90
E-Mail: anika.amort@vossloh.com
Vossloh Rail Services
As a business segment of the Vossloh Group, Vossloh Rail Services provides a host of services centered on rails. Its range of services covers a rail's entire lifecycle – everything from long-rail production and transport, rail maintenance and preventive care right up to the reconditioning and recycling of old rails. By combining its own technologies with efficient procedures and experienced personnel, the company is ensuring that modern railway operations are both safe and sustainable.