Sustainability Management at Vossloh
Significance of sustainability to the Vossloh business model
Vossloh is active in rail infrastructure markets worldwide. With its products and services for rail infrastructure, Vossloh makes an important contribution to people's mobility and the transport of goods. For both local and long-distance traffic, rail is one of the most sustainable and also safest means of transport. In addition to its activities that promote sustainability in the rail infrastructure market, Vossloh has a general commitment to fulfilling its social responsibility in its business activities. This includes our expectation that both the Company and its employees adhere to the applicable laws, respect basic ethical values and act in an exemplary fashion at all times and in all scenarios.
Sustainability is anchored in the Vossloh Group
The Executive Board has acknowledged the guiding principle of sustainable development in a statement on the Group's sustainable orientation. In operational management, sustainability is the responsibility of the Chief Operating Officer (COO).
2020 Vossloh completed a multi-year phase of restructuring and focusing on rail infrastructure. At the end of 2020, the Executive Board and Supervisory Board of Vossloh AG adopted a revised corporate strategy in which sustainability is one of the central initiatives. The high priority given to this issue is reflected in the accelerated development of a Group-wide sustainability strategy among other things. For this purpose, the new central area of Sustainability, Health & Safety was created at Vossloh AG as of July 1, 2020. The head of this area, who was appointed on November 1, 2020, reports directly to the Executive Board.
The Sustainability, Health & Safety Committee was also newly created. This is made up of the heads of certain Vossloh AG departments together with the HSE (Health/Safety/Environment) officers of the business units. Employees responsible for sustainability, health & safety were appointed in each business unit; previously, the topic had been located in the Groupwide sustainability working group. At present, Group-wide working, reporting, managing and decisionmaking structures for sustainability are being revised. This will put more focus on sustainability, both strategically and operationally, and refine responsibilities and processes.
Executive Board statement
Vossloh included the nonfinancial statement in its reporting in 2017 and has since been systematically establishing and expanding a corresponding reporting structure. The initial preparation of the statement was preceded by a multi-stage materiality analysis. Based on a broad-based Group-wide survey of managers and experts with close contact to various Vossloh stakeholders, the nonfinancial aspects that are necessary to understand the economic situation of the company and the impacts of its business activities were identified. They are reviewed annually to ensure that they are up to date and supplemented if necessary. The following materiality matrix depicts the significance of the current total of 14 nonfinancial aspects.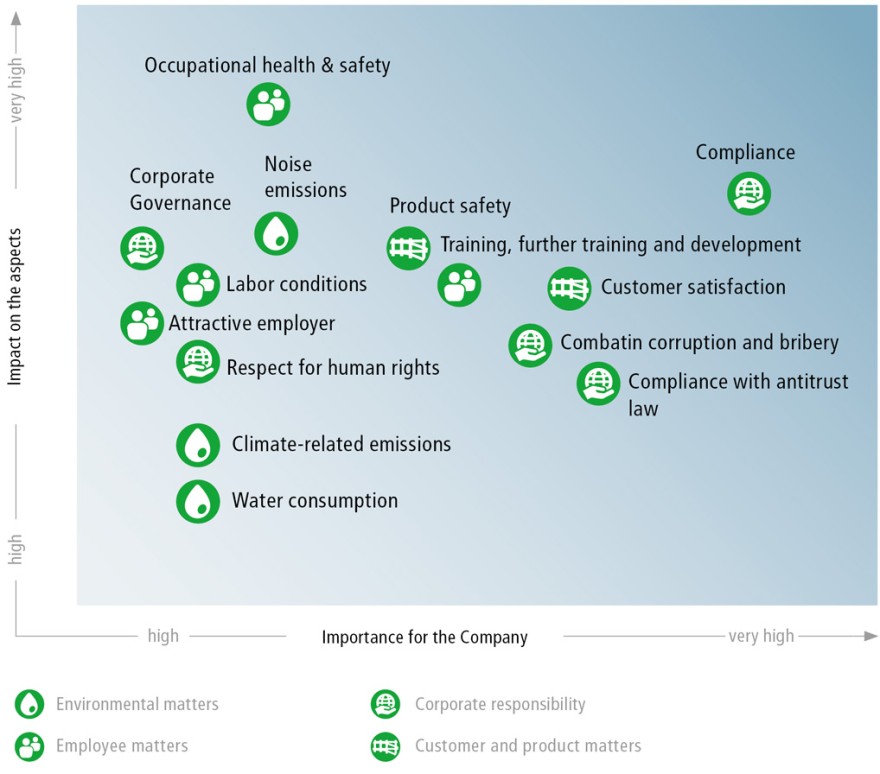 Certification in the Vossloh Group
In recent years, more and more Vossloh units have been awarded certification in at least one of the international quality, environmental, energy efficiency or social standards such as ISO 9001, ISO 14001, ISO 50001, OHSAS 18001 or its successor standard ISO 45001 or a comparable national standard and have corresponding management systems in place. At the reporting date December 31, 2020, more than 98 percent of the Vossloh workforce was employed at a unit with such certification.
Since January 23, 2020, Vossloh has been a member of the United Nations Global Compact. By supporting the principles of the UN Global Compact, Vossloh is once again outlining its contribution to achieving the global Sustainable Development Goals (SDGs) by 2030.