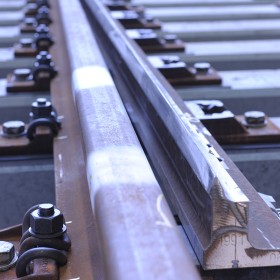 Vossloh is a leading supplier of turnouts, crossing, and special trackwork in North America. We manufacture at our three Cleveland Track Material, Inc. facilities located in Cleveland (OH), Reading (PA), and Memphis (TN). We are an essential supplier of special trackwork to Class I and Transit railroads, with a reputation for delivering turnouts and crossings to some of the most complex rail intersections in North America. Cleveland Track Material manufactures railway trackwork products to AREMA standards as well the unique specifications of our customers. Our comprehensive portfolio of special trackwork products include;
For general inquiries, requests for quotation, or customer service please contact Cleveland Track Material, Inc. at 216-641-4000 during normal business hours – 8am – 4:30pm EST.
Or, let us know how we can help you by sending us a message along with your contact information in the online contact form below.
Find out more about Special Trackwork Products